Selling a condo is quite a complex affair all by itself, but when said property is already occupied by tenants, the situation can turn sour if appropriate steps aren't taken. While navigating the sale of a tenanted condo might seem like a rather scary prospect due to the various laws and standards involved, it's actually much more straightforward than you might think.
If you're currently renting your condo to tenants, yet need to sell it, you may wish to familiarize yourself with a few steps before you move forward. Both you, and your tenant(s) will be much happier for it. 
UNDERSTAND TORONTO LAWS
Before embarking on the sale of a tenanted condo, it's wise to dive into all the applicable landlord-tenant laws within a particular Toronto-area jurisdiction. These laws do vary somewhat by location, and can impact the rights and responsibilities of both landlords and tenants during a property sale. Tenants living in properties within Toronto are not legally obligated to move out when a condo is sold, but this is heavily dependent on the original rental contract. More on that later.
TALK OPENLY TO YOUR TENANT
Open communication is key when it comes to any sort of business relationship, and landlord-tenant contracts are no different. Once you've made the decision to sell your condo,  you should notify your tenants promptly regarding your intentions. Make sure to provide them with all the necessary information about the sale process, the overall timeline, and how it might impact their tenancy within the property.
Clear communication can alleviate any concerns, and help maintain a positive relationship throughout the process. Try not to spring the news on your tenants too late, as this will force them to scramble frantically in search of another place to call home. This can upend their careers, affect their families, and place undue, unnecessary stress on them. Plan your sale early on, and notify your tenants as soon as possible so they can have some time to maneuver. 
COORDINATE PROPERTY SHOWINGS
Balancing property showings with tenants' rights to privacy can be challenging, but the more open and honest you are with them, the more likely they will reciprocate in kind. Provide ample notice of showings, and ask your tenants to get involved by taking up-to-date pictures of the condo so that the next buyer can see what condition it is in.
Meanwhile, you must inform potential buyers that the condo is currently tenanted, and provide details of the lease period, particularly the expiration date. Attention to detail is important during this very crucial step, and any fumbles may result in buyers walking away, as well as angry and frustrated tenants. 
SELL THE BUYER ON THE BENEFITS
When marketing the sale of your condo, you can sweeten the pot by emphasizing the advantages of purchasing a tenanted property. Make sure to highlight the steady rental income, the quality and responsibility of the established tenants, and the potential for a smooth transition with money to be made once the deal has been signed. This can attract both investors and potential buyers who see the value in an income-generating condo. Their decision after the sale has concluded will be theirs to make, and you will no longer have to concern yourself with it.
OFFER TENANT INCENTIVES
The very act of upending tenants from a place they consider home is jarring, regardless of how noble and honest your intentions are. Therefore, consider offering incentives to your tenants to make the process easier and more pleasant. For example, you may offer reduced rent during the showing period, or pay a portion of their moving expenses if they choose to vacate. 
These small, yet kind gestures encourage cooperation, and may ease any potential tensions, while making everyone happy at the same time. Most tenants are more understanding than you might think, and all they desire is a little bit of consideration in return. 
EXAMINE THE CONTRACT
As mentioned earlier, tenants living in Toronto-area properties are not legally required to move out once a sale has been made. However, this is entirely dependent on their rental agreements, so make sure to examine your own. Some tenants may work with you by agreeing to move out before their contract has expired, but this is usually an unlikely scenario that should not be relied upon. If the rental agreement is long-term (i.e. – one year or more), then the new owners of your condo cannot evict or ask them to leave until the lease period expires.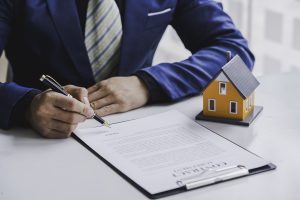 The second scenario is whether the tenant is operating on a month-by-month lease. Many Toronto landlords sign a one year agreement during the first year of tenancy, then switch to monthly once the relationship with the tenant has been built up. Regardless, you'll want to give your tenant at least 60 days' notice requiring them to move out, which is considered the absolute-minimum. Anything less may result in legal complications if the tenant decides to take action.
As mentioned before, try to give your tenant as much notice as possible, even beyond 60 days if the situation allows for it. And finally, do not give 60 days' notice to your current tenant, then rent to someone else, or you could find yourself facing down the ire of the Landlord and Tenant Board. 
WORK WITH A REPUTABLE REAL ESTATE FIRM
While relatively straightforward, the sale of a tenanted condo is nonetheless a tricky affair, which is why you should consider working with professionals who have experience in this particular field. A knowledgeable real estate firm can provide valuable insights and guide you through the process, utilizing their expertise, finesse and diplomacy to navigate through the twists and turns of the sales process, without upsetting your tenants, or losing valuable buyers. 
Fine Homes Real Estate has plenty of experience dealing with this particular type of sales scenario, and we're here to help. By prioritizing open communication, respecting tenant rights, and working collaboratively with all parties involved, we can help you successfully sell your condo in a positive, ethical manner, so that all everyone walks away happy. Contact us today, and let us handle the details of your sale, so you don't have to!